So your kid is battling with sleep apnea? Don't fret! There are dependable solutions that can eliminate the sleep disorder symptoms and help your child sleep like a baby. CPAP machines specifically built to treat the condition characterized by continuous, abnormal, interrupted breathing when sleeping.
This frustratingly consistent pauses in breathing can negatively affect the sleep quality of your kids and consequently result in deprivation, behavioral issues and fatigue in your child. According to facts and figures, more than 3% of children in the world are struggling with obstructive sleep apnea.
Generally, the continuous positive airway pressure (CPAP) machine is considered the most effective solution in treating sleep apnea in kids. Meanwhile, cpap machines comes with different varieties of masks which includes full-face and nasal masks. 
If you buying a CPAP machine a child, you need to note the type, style and size of the mask in particular.as you might have also noticed, children needs masks that can fit their face perfectly. You will not expect the standard masks for adult to size children, so, that puts you on a serious quest to make sure you get the best fit your child for best result.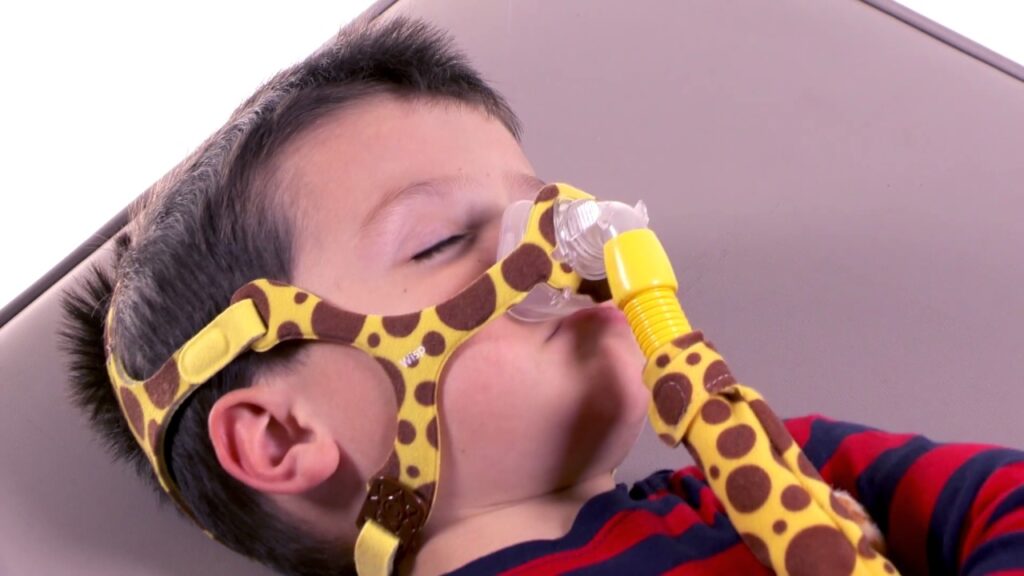 Although, you can also treat sleep apnea disorder with surgery, most people are scared to enroll their children the procedure. And far beyond fear, your doctor may prescribe CPAP machine straight away and you are left with no options.
Choosing the right pediatric mask that can work perfectly for your child's CPAP machine can be a daunting task. But, if you get the right fit, you will successfully increase the effectiveness of your child's CPAP machine and get the best result from the therapy.
Do you find it difficult to choose the right CPAP machine mask for your child? Allow me to expose you to the best of the varieties in the market. Out of the pool of competition, I have helped select some top picks that can specially designed for children between the age of 1 to 5years and can serve the ultimate propose of overcoming sleep apnea almost immediately.
Best CPAP Machine Masks for kids
1. Philips Respironics Wisp Pediatric Nasal Mask for CPAP Machine
This mask is one of the best in the present market. It is averagely small and fits into children's nostrils perfectly. It is not hard to know the reason this mask is one of the most recommended for kids. One special feature that makes it more preferable is that it comes with a fun design that encourages children to always want to use it.
The manufacturer would have factored in the fact that it children don't always like using anything scary. So, if you child is a picky or fearful one, this mask will definitely provide the right appeal for constant usage.
What's more? This masks is a go to potion if your child finds other masks uncomfortable while sleeping. Does your child wear glasses? That's a more reason to consider buying this mask. It is small enough to accommodate eye glasses with itself without creating irritations.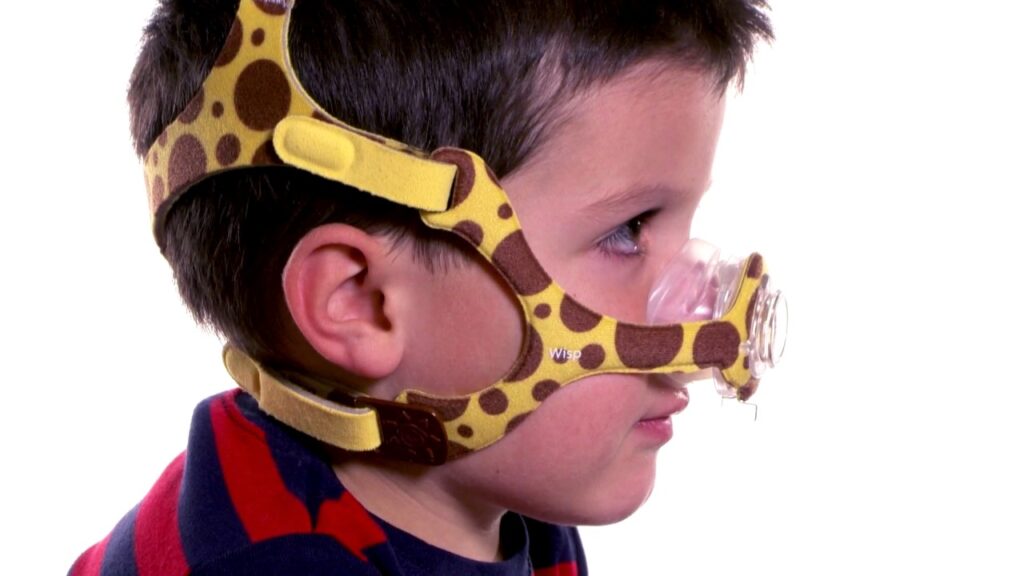 Special Highlights
This mask is made of high quality Giraffe design that appeals to children especially the younger ones between ages 1 – 5. With this special feature, you can be sure your kid would love to wear it to sleep everyday and night which will definitely aid excellent result and quick recovery.
It comes with soft silicon material which gives your child comfort when using it. Naturally, children have the tendency to be scared of CPAP machine. However, with this soft silicon material, your child will be free of the itchy sensation that may come from the tightening of the mask to the face.
This CPAP mask is a low profile CPAP accessory and it doesn't require your child to add any forehead attachment. That means, your child can wear this mask during day while playing, watching TV or performing daily routines. More so, your child will find it easy to wear this mask when it's bedtime.
The Wisp Pediatric Nasal CPAP machine mask comes with a leak correction feature which allows you help your child adjust the mask to reduce or prevent excessive air leakage. It is easy to wear, adjust and remove anytime and that makes it more useable for children. A good CPAP mask should be easy for children to adjust anytime without the help of their parent.
2. Mirage Micro Nasal CPAP Mask
This CPAP machine mask is suitable for children within age 7 and older. It is one of the best CPAP mask for children available in the market. Doctors mostly recommend this particular mask for children because of its high adjustability capacity. In other words, it works perfectly for children with different facial shape.
Indeed, it can be challenging to find the right mask that will fit your child's face perfectly as you don't have the opportunity to test it in the market. but, this mask allows you to adjust it to your child custom fit.
Mirage Micro Nasal CPAP mask is the best for children who finds it difficult to sleep in a moderately noisy environment. It help[s them fall asleep within few minutes.
Special Highlights
This CPAP mask quietly distribute air to your child's nostrils. That way your child will not have to struggle with sleep and disturbances when sleeping.
It comes with a stylish dual-wall cushion specifically designed to suit children's face. This silicon cushion helps reduce pressure on the bridge of your child's nose, making it easier for the mask to rest well on the face comfortably. Since kids don't have much tolerance to anything that gives pain even at the mildest level, getting a cushioned mask is the best.
Conclusion
Your child can overcome sleep apnea easily with CPAP machine. But that cannot be done unless you get the right mask that fits perfectly without leakages. The above masks have been tested and trusted to serve children and produce excellent result with comfort. They are also pretty much affordable and durable with consistent adequate maintenance routines.